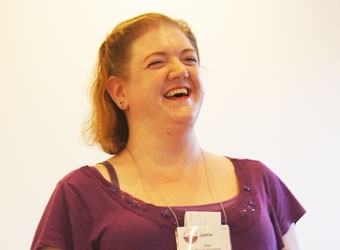 Meet the fun loving singer, Jamie!
How did you find Sound Harmony Chorus?
I helped start it with a few other like minded individuals.
What do you love about singing barbershop?
I love learning and I feel like there's always something to learn in barbershop. It's always a challenge.
What's your favorite song (barbershop or otherwise)?
I have to say "In My Life" written by John Lennon and Paul McCartney. It has very special personal meaning.
Describe a unique talent you have.
Organization. I'm really good at it and have helped others organize things and spaces before.
If you had a million dollars, what would you do?
Travel and work with Young Women in Harmony to bring barbershop into schools around the world so the next generation can fall in love with this art form.
What was a goofy thing you did as a child?
My sister and I had a mud fight at Lake Wenatchee. Who cares about a glacier-fed lake when they're 9 years old? I did after I had to wash the mud off in it. :-)
Any other fun facts?
My great uncle was the original Uncle Fester in the Addams Family.
Why we love singing with Jamie
"She has done so much for the chorus as a major part of the leadership team"
"Up for anything and always ready with the pitch pipe"
"Contributes on multiple levels (and voice parts), essential and enthusiastic"
"Wow, what a girl! Talented, strong, beautiful voice, can do anything"